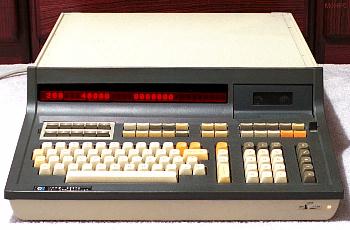 The HP Series 9800 Model 30 (HP 9830, 9830A, 9830B) came out of the Calculator Products Division (eventually renamed to Desktop Computer Division) of Hewlett-Packard in the 1970's. First introduced in 1972, it was programmed in BASIC and had a number of accessories that could be attached by way of interface "boxes" inserted into the back of the machine.

I have more information about the machine here. including scans of a four-page technical data brochure.

I wrote a number of programs for the 9830 and the 9831, back in in the 1979-1982 timeframe. (Click here for more information on the 9831.)

I am also interested in peripherals for the 9830, especially mass storage devices like the 9880A and 9880B removable hard disk drives and the 9867B removable/fixed hard disk drive. The 9880B has two hard drive platters, one permanently installed and the other a removable platter (HP 12869A). Each platter has a storage capacity of 2.4 megabytes. The drive interfaces with the 9830 via a HP 11273B Plug-in ROM block and an HP 11305A Controller.

I would especially like to find a Data Communications Interface for the 9830, specifically the 11205A or 11285A. A couple of plug-in ROMs for the 9830, the 11296B and 11298B for Data Communications, provide the 9830 with the capability of communicating with external serial devices. I'd also like the interface cables, like the 11284A Data Communications Interface.

I would also like to find an HP 2615 terminal (actually a Beehive MiniBee) and a HP 9882A terminal, which is an HP 2640A terminal and an interface card to connect it to a 9830.

Plug-in interfaces are also of interest, including the HP 59405A HP-IB Calculator Interface Unit.

In case you're interested, the 9830 is covered in great detail in U.S. Patent number 4,012,725. (In addition, the 9810 is in patent 3,859,635 and the 9820 is in 3,839,630, which are also very interesting reading.)

Click here for more patent listings.