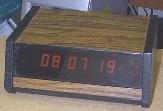 I'm interested in acquiring old Heathkit digital clocks, particularly the models with the orange Panaplex displays like the GC-1005, GC-1092A, GC-1092D and GC-1094. These are six-digit clocks (hours, minutes and seconds) in either wood grain or plastic cases with various alarm functions. The GC-1092D has a date function as well. The GC-1093 Digital Car Clock also uses the gas discharge Panaplex displays.

You can read more about these clocks here.

Other Heathkit clocks, like the GC-1000 Most Accurate Clock, the GC-1195, GC-1197, and so on would also be of interest.
GC-1000
I have a GC-1000 that needs a replacement pre-programmed Mostek 3870 microprocessor, Heathkit part number 444-293-1 (sometimes noted as 444-293-01). Does anyone have any spares of this part?

GC-1005
The GC-1005 uses three Beckman SP-352 two-digit gas discharge displays. Click here for more information about how these displays decay over time.

The clock chip is a Mostek MK5017 PAA (there are variants of this IC, including MK5017AA, MK5017P and MK5017A). This is a 24-pin dual in-line package (DIP), typically white ceramic with gold-plated pins.
Click here for more information on the chip. This is Heathkit part number 443-601.

Spare SP352 displays and MK 5017 clock chips are also of interest, as well as CS-352 (the sockets for the displays) and Dionics chips like the DI-770N and DI-297N (the DI-770 (DI770N) and DI-297 (DI297N) are driver chips for Panaplex displays like these).
Don't worry about whether the clock is working or not. Even if it doesn't function, I can always use the parts.
Speaking of parts, I'm also interested in finding MM5311 and MM5315 clock chips, 7441 and 74141 driver ICs, and Nixie tubes to build and repair other old clocks. (I have more information about Nixie tubes here.)
If you have one of these clocks, or some spare parts, gathering dust or headed for the trashcan, please drop me a line!