I am interested in old computer terminals, including the one described below.
If you have one, please do not throw it out - I would be happy to give it a good home!
Send me an email.
---
The ITT Model 3501A ASCIScope is a self-contained terminal with a full keyboard, monochrome CRT, and a top-mounted acoustic coupler, first available in October of 1972. By April of 1974 more than 700 had been sold.

The 3501 model supports 960 characters (12 lines × 80 characters) on an 8×5 inch screen using 64 ASCII characters with a 5×7 font matrix.

It is capable of both half and full duplex operation at 2400 bits per second.
---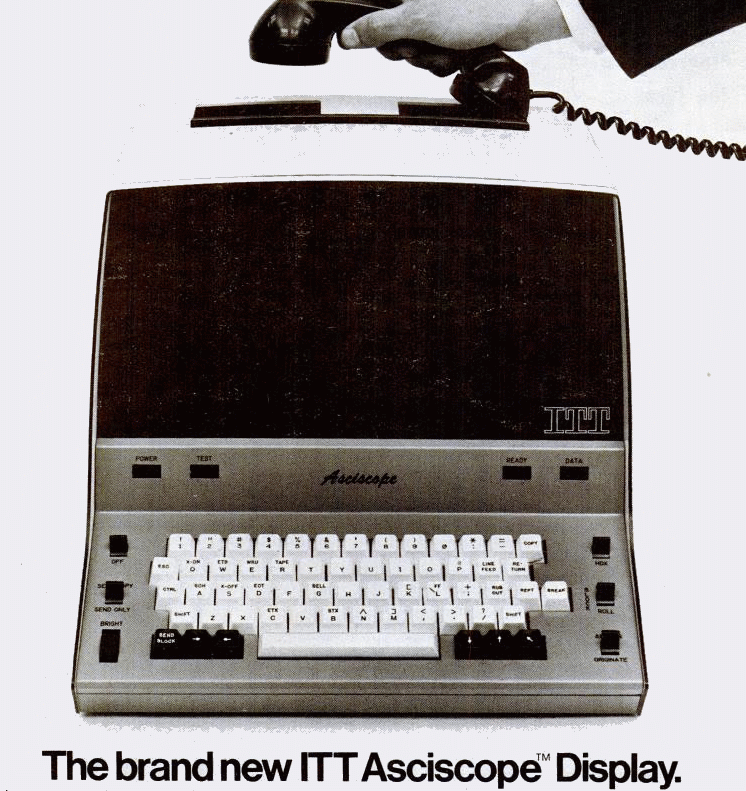 Advertisement from Computerworld, June 28, 1972
---
Teletype-Compatible Terminal

The Model 3501 Asciscope terminal offers the user editing facilities and communicates at either 110 bits/sec (Teletype-compatible) or 300 bits/sec. The terminal has a memory capable of storing the entire screen display (12 lines of 80 characters each). A 5 x 7 dot matrix forms characters. Editing can be done on a line-by-line basis before transmission. Interfaces are included to printers and to external 1,200- and 2,400-baud modems. Purchase price is $2,195; maintenance cost is $20 per month.

ITT Data Equipment and Systems Div.
East Union Ave.
East Rutherford, N.J. 07073
From Behavior Research Methods and Instrumentation, 1972, Vol. 4 (6)