Microprocessor/Memory Applications Briefs, RCA Solid State
A compendium of the most useful CDP1800 Series microprocessor/memory application hints that have appeared in recent issues of the RCA Solid State Newsletter.
MCS-40 User's Manual for Logic Designers, Intel, 1971
Microcomputer Experimentation with the MOS Technology KIM-1, Lance Leventhal, 1982
The First Book of KIM, Jim Butterfield et al, Hayden Publishing
Microcomputer Experimentation with the AIM 65, Lance Leventhal
AIM 65 Laboratory Manual, Leo J. Scanlon
2100 Computer Microprogramming Software Handbook, Hewlett-Packard, 02100-90133.
TRS-80 Model 100 Assembler / Debugger Manual, 26-3823, Tandy Corporation, 1984
The Apple II Circuit Description, Winston Gayler, 1983, ISBN 067221959X
Understanding the Apple II, James Sather, 1983, ISBN 0912985011
Understanding the Apple IIe, James Sather, 1985, ISBN 0835980197
Cold Cathode Tube Circuit Design, Denis Neale, 1965 (click here for more information on Mr. Neale)
Cold Cathode Glow Discharge Tubes, G. F. Weston
Applications of Neon Lamps and Gas Discharge Tubes, Edward Bauman, 1966
Electronic Counting Circuits, J.B. Dance, 1967
MOS Integrated Circuit Guide, Mostek Corporation, 1974 or 1975
MOS/LSI Databook, National Semiconductor, 1977
Synertek data book, 1979
Inside the HP-41, Jean-Daniel Dodin, 1985
U.S. Nuclear Weapons: The Secret History, Chuck Hansen, 1988, ISBN 0517567407
The Marine Chronometer, Rupert T. Gould
Flying the Turbine Helicopter, Lee Nordan, 1989
The Map that Came to Life, H. J. Deverson, 1967
Quotations From Chairman Morrow, George Morrow, circa 1984
You can read the text here, but I'd still like to find a physical copy of the pamphlet.
---

Hewlett-Packard catalogs for the years 1971 and 1974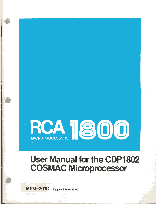 Binary Arithmetic Subroutines for the CDP1802 COSMAC Microprocessor, RCA
Micromonitor Operating System (MOPS) CDP 18S831 User's Guide, RCA
Instruction Manual for RCA COSMAC Microterminal , RCA

Design Ideas Book for the CDP1802 COSMAC Microprocessor (BMP 802)
H-8 Programming for Beginners, Don Inman, Bob Albrect and Ron Santore, 1980 (Dilithium Press), ISBN 0918398177
Programs and Teletype Procedure, Technical Bulletin 1972-1, by James E. Vaux.
A Causal Mechanism for Gauquelin's Planetary Effect, P.A.H. Seymour, Plymouth, 1986
Correlation of Cycles in Weather, Solar Activity, Geomagnetic Values, and Planetary Configurations, Maxwell Oscar Johnson, 1946
Effect of Sunspot Cycles on Long Distance Radio Signals, Harlan True Stetson, 1947
Cycles in Weather and Solar Activity, Maxwell Oscar Johnson, Paradise of the Pacific Press, 1950
Long warm weather cycle ahead, Hideo Nishioka, International Economic Research Bureau, 1957
Solar activity and planetary positions, J. B. Blizard, July 1969
Application of the method of planetary configurations to active phenomena on the sun, V. S. Prokudina, January 1973
Nature magazine, 14 December 1978