PHOTOS
(Click on any photo for a larger version.)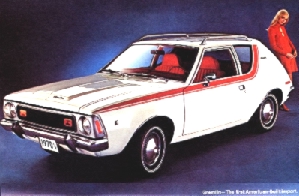 This is a promo piece for the Gremlin at it's introduction. Note the license plate -- "1970 1/2".
---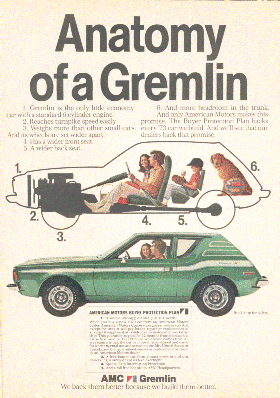 This advertisement appeared in the May 1973 issue of Popular Science magazine.
---

A 1976 Gremlin.
---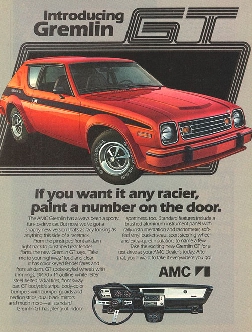 An advertisement for the Gremlin GT from 1978. Fewer than 2,000 of these models were made.
NOTES
American Motor Company (AMC) built the Gremlin between 1970 and 1978. More than 670,000 were produced.
Year-by-year:
1970
In April Gremlin introduced two basic models, a two-seater and a four-seater hatchback
six cylinder, 199 in3 128 hp
six cylinder, 232 in3 145 hp

Click here to read an article about the introduction of the Gremlin, from the April 1970 issue of Popular Mechanics.

1971
Two-seater retired this year
199 in3 engine no longer available
six cylinder, 258 in3, 150 hp available
"X" package introduced

1972
six cylinder, 232 in3 rated at 100 hp
six cylinder, 252 in3 rated at 110 hp
eight cylinder, 304 in3, 150 hp available
Automatic transmission changed to Chrysler "Torque Command"

1973
Front bumper larger and mounted on telescoping struts
Levi's trim package introduced
Redesigned back seat with (a little) more room
1974
New grille and front bumper.
Rear bumper was put on telescoping struts.
"Rallye-X" package added a tachometer, oil pressure and ammeter gauges.
1975
Electronic ignition standard on all models, although this was not entirely trouble-free.
Catalytic converter introduced.
1976
Redesigned grille and headlight assembly.
The eight-cylinder 304 in3 V8 engine option was dropped during the production year.
1977
Major restyling: front end shortened, larger glass hatch, larger tail lights. Gas cap moved to behind the license plate.
A four-cylinder 2 liter engine available.
1978
Final year of Gremlin production.
New dashboard design.
"GT" package available with front spoiler and fender flares, as well as other items.
Sources:
allpar.com/amc/gremlin.html
www.gremlinx.com