The RCA CDP1802 COSMAC microprocessor is a one-chip CMOS 8-bit register-oriented central processing unit introduced in 1976.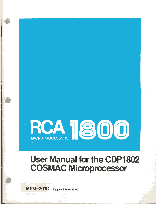 Although the 1802 is now more than 30 years old, it continues to prove itself in many industrial and commercial applications. A persistent rumor identifies it as the furthest microprocessor from Earth, having been used on board the Voyager spacecraft. (Voyager 1 is now the furthest human-made object from the Earth, at more than 100 A.U. distance.) Certain versions of the chip were extremely resistant to cosmic ray upset, making it well-suited for use in space. However, design work for the Voyager and Viking series spacecraft began long before the 1802 was available; instead they used custom-engineered computers. The Galileo spacecraft, however, used several 1802 processors.
The 1802 was first popularized for hobby use in a 1976 Popular Electronics article that described the "COSMAC Elf" computer. Around the same time commercial companies began offering similar products based on the 1802.
The 1802 is interesting for a number of reasons, not the least of which is the fact that it uses static CMOS circuitry, meaning it has no minimum clock frequency. Also, most instructions execute in two clock cycles. It has sixteen general purpose registers, each of which are 16 bits wide. Any of these registers can be used as a program counter or an accumulator.
I am interested in collecting and preserving systems and documentation related to the 1802 microprocessor. If you have any equipment, manuals, parts or other items related to the 1802, please send me an e-mail!