The SP-352 is a two-digit planar-gas-discharge ("Panaplex") display by Beckman (formerly Sperry Information Display Division).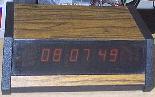 I'm looking for two spare displays, to replace flickering displays in a Heathkit GC-1005 alarm clock. The flickering occurs most often when the digit 1 (fewest segments lit) is displayed.
These displays were capable of being driven by another Beckman product series, either a DD-700 or DD-702 integrated circuit. You can read more information about them here.
If anyone has a spare display or two, please drop me a line.