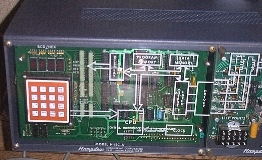 This is a model H-IEC-A from the Hampden Engineering Corporation out of East Longmeadow, Massachusetts.

From Hampden website:
MODEL #H-IEC-A Stepper Motor Trainer The Hampden MODEL H-IEC-A Stepper Motor Trainer provides complete instruction in the control and operation of both unipolar and bipolar stepper motors and stepper motor drives. Troubleshooting experience is provided via fault switches mounted at the rear of the unit and test points accessible on the front panel. The MODEL H-IEC-A is the intelligent drive circuit, contained in the left side of the housing. The right side of the housing may contain either the MODEL H-IEC-A1 Unipolar Stepper Motor or the MODEL H-IEC-A2 Bipolar Stepper Motor.