HEWLETT-PACKARD ET-9202 QUARTZ CRYSTAL OSCILLATOR
Regarding the ET prefix:

Anything that starts with ET was primarily meant for factory use. Very few "ET" products were sold to the outside. I think ET stood for Electronic Tool or something like that. Typically, an item like this was custom made for a specific production line.
The unit is in a cabinet similiar to an HP 59309A digital clock, with top, bottom and side panels of HP part numbers 5040-7210, 5040-7211 and 5040-7212, respectively.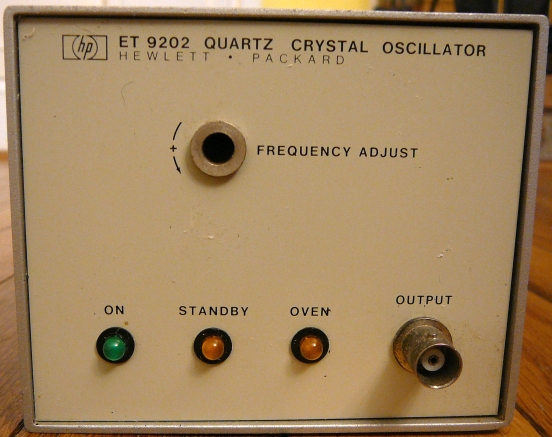 The front of the panel has three indicator LEDs, a BNC output connector and a manual frequency adjustment.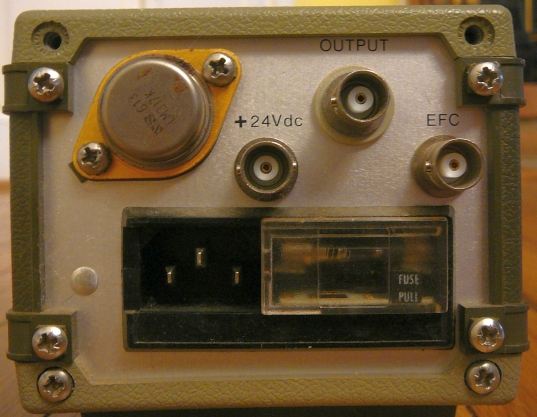 The back has a fused AC power connector and three BNC connectors for +24 Volts DC, output and EFC.

This is the oscillator interface, identified as such by the hand-written descriptor.
It appears to be HP part number 1251-2035, a PC edge connector, 2 rows with 15-contacts per row, manufacturer code 71785 (TRW Elek Components Cinch Division, Elk Grove Village, IL 60007), manufacturer part number 252-15-30-300.
The 10811A Oscillator requires a 0.156" C-C 15-pin printed circuit connector. The recommended connector is the CINCH 250-15-30-210 50-30S-30 (HP 1251-0160), Vishay/Dale (HP 1251-2035) EB81-BN15TGW, EDAC 305-030-500-202 (Mouser 587-307-030) or 305-030-520-202. The 10811A can be secured with two 6-32 screws, 1/4-inch long. Figure 2-3 shows the power supply connection for the 10811A. Figure 2-5 shows the mechanical mounting dimension for the 10811A and 10811B.
---
I am looking for documentation, the original oscillator and the associated interface board for this device.
---
Comments to Dan Veeneman

Click here for the Help Wanted page.
Click here for the Home page.
Click here for the Wanted page.

Last revised July 8, 2016