These are handheld games made by Tiger Electronics. The goal of the game is to press buttons in the proper order to extinguish all of the lights.

Think-A-Dot was a plastic toy created by Joseph Weisbecker (1932-1990) and manufactured by E.S.R., Inc. during the 1960s. The game involved a mechanism into which marbles would be dropped, flipping colored disks and deflecting the balls left or right. One puzzle available in the game was to flip all of the disks to the same color in the minimum number of moves.

Mathematical Theory of Think-a-Dot, Benjamin L. Schwartz
Mathematics Magazine, Vol. 40, No. 4 (September 1967)

Think-a-Dot Revisited, John A. Beidler
Mathematics Magazine, Vol. 46, No. 3 (May 1973)

Think-a-Dot: A Useful Generalization, Michael Gemignani
Mathematics Magazine, Vol. 52, No. 2 (March 1979)

In the May 1974 issue of Popular Electronics, Joseph Weisbecker (of RCA COSMAC 1802 microprocessor fame) described an electronic game called Flip that used TTL flip-flops to simulate his mechanical Think-A-Dot.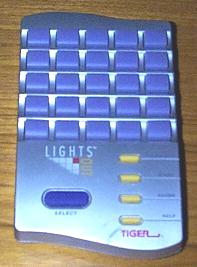 The standard 5x5 game, patented in 1995 (US Patent Number 5,417,425). The grid of 25 buttons, each of which can light up independently of the others, displays a pattern at the start of the game. The goal is to extinguish all of the lights by pressing the fewest number of buttons.

Pressing a button reverses the state of the button as well as the four buttons immediately above, below, to the left and to the right of the pressed button.

There are three modes of play.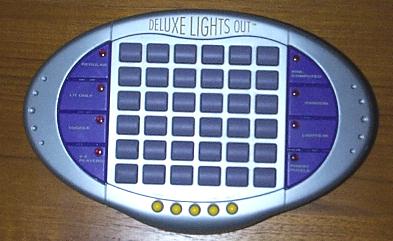 This is a lights out game played on a 6x6 grid. The user may select how the game responds to a button press - either the standard pattern of above, below, left, right (a + pattern) or a diagonal (a x pattern) pattern of upper left, upper right, lower left and lower right.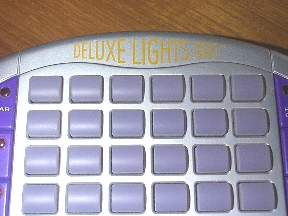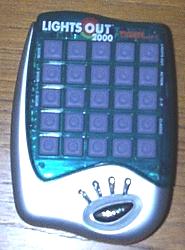 Revamped for the turn of the Millenium, this model is similar to the standard 5x5 game. It's covered by US Patents 5,417,425 and 5,573,245.

It also offers multicolored lights and sound effects.