Military Storage Tubes
I have about a dozen of these NATO military storage and transport container tubes. I believe they may have been used to store and transport artillery rounds, and were manufactured in 1984.

They're made of steel with a hinged cover secured by a latching clasp. The lid has a rubber grommet seal. They're in pretty good shape, intact and free of rust, but somewhat dirty.
The text reads:

10,5 cm
Kan Ladungen 1 bis 4
can charges 1 a 4
can cariche 1 a 4
591-2074

Brutto kg 17
Fabrikationsdaten: Donnees de fabr: Dati di fabbr
59-84 A
PM 526/527 Ws

The tube is 4.6 inches in outer diameter, 4.5 inches inner diameter.
It is 24.4 inches long inside (inner depth) and 24.6 inches long outside.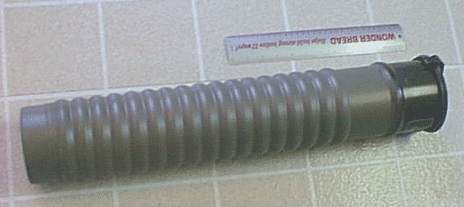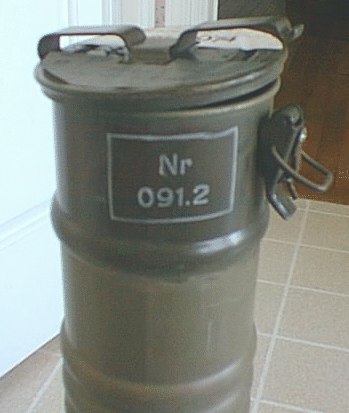 Each tube weighs about four pounds and would be shipped from zip code 21045, if you're interested in figuring out shipping charges.
Click here to go to the For Sale area.
Click here for the main page.
---
Comments to