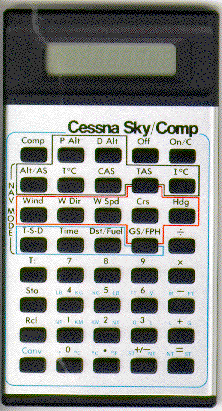 This is a liquid crystal display calculator with functions specific for aviation.
Pressure, Density Altitude
Calibrated, True Airspeed
Wind Speed, Direction, Course and Heading
Time-Speed-Distance, Distance and fuel consumption
Conversions between various units of measure
Four basic mathematic functions
It uses two watch batteries. There is no AC adapter.
It was manufactured in the USA by Texas Instruments. The back place has the serial number 9786869 and the code ATA2180.