This article first appeared in the April 1999 issue of Monitoring Times.
TOUCHING BASES
We have all come to expect that wireless telephones require a base station. Cordless telephones in the home need a base that is connected to the jack on the wall. Cellular telephones communicate with nearby antenna towers, connecting your call to a cell site base station. The obvious drawback is, when the telephone is out of range of the base station, you're out of touch.
Instead of building towers and antennas every few miles, what if you put the base station inside a satellite orbiting 480 miles overhead?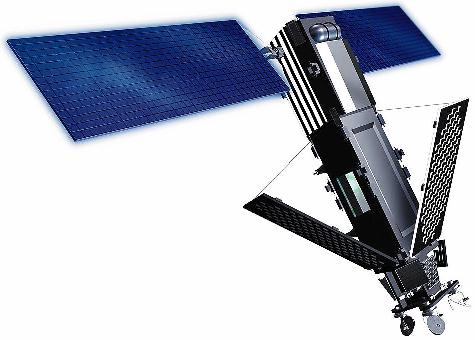 IRIDIUM
That's exactly what a $5 billion satellite communications venture named Iridium has done. Led by Motorola, Iridium uses sixty-six satellites in low earth orbit to link portable handsets to a dozen ground stations scattered across the globe. After a decade of planning and a year and a half of rocket launches, the world's first handheld global satellite-based personal communications system began commercial operation on November 1, 1998.
Iridium is designed to provide telephone service in areas not covered by terrestrial networks. When a subscriber is in a remote area the handset operates through the satellite network. When the subscriber moves within range of a compatible terrestrial network the handset operates over that network. The basic satellite phone can be clipped into a "cellular cassette" that wraps around the phone and provides the necessary communications hardware for several types of terrestrial networks. Four different cassettes are available:
1 Global System for Mobiles (GSM) at 900 MHz
2 Code Division Multiple Access (CDMA)/Advanced Mobile Phone Service (AMPS)/Narrowband AMPS (NAMPS) at 800 MHz
3 Time Division Multiple Access (TDMA)/AMPS at 800 MHz
4 GSM at 900 and 1800 MHz
The Motorola Series 9500 satellite phone weighs about 16 ounces and is reminiscent of the first generation "brick" cellular telephones. It is advertised to have two hour talk time and 16 hour standby, and uses a removable, credit card-sized Subscriber Identity Module (SIM) to hold customer information. It transmits digitized speech at 2400 bits per second in L-band between 1616 MHz and 1626.5 MHz at an average power level of half a watt.
Working through local service providers, Iridium sells handsets for about $3300 and charges anywhere from $2 to $10 per minute for air time. In the United States, Sprint PCS is the exclusive provider for Iridium service. Customers are accessible via their Sprint PCS telephone number while traveling internationally, and receive a single bill from Sprint PCS containing all local and international charges.
By the end of 1998 Motorola had produced 35,000 phones and was making about a thousand per day. The only other handset supplier, Kyocera of Japan, has apparently been unable to meet Iridium performance standards and thus does not yet have their phones on the market.
Data and fax services are expected to be available this summer.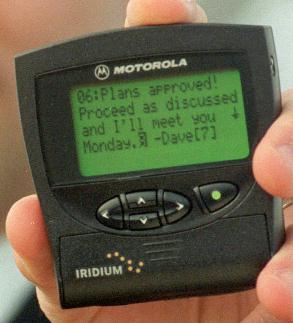 Iridium activated their "World Page" service on November 15, 1998, providing worldwide paging to customers for about $160 per month. A pager retails for $500, supports up to 200 characters per message, and even works aboard aircraft. PageNet is the exclusive service provider in the United States. At the end of 1998 Motorola and Kyocera together manufactured 3,500 pagers and have a combined capacity to make 8,000 pagers per month.
Motorola's series 9501 Pager is receive-only with built-in satellite signal strength measurement and supports four frequencies in L-band:
Primary: 1626.437500 MHz
Secondary: 1626.395833
Tertiary: 1626.145833
Quaternary: 1626.104167
Getting such a complicated system off the ground has not been without problems. The original start date of September 23 was delayed due to a "lack of mileage" and insufficient testing, according to Iridium CEO Dr. Ed Staiano. Instead, 2,000 beta testers were selected to perform subscriber trials for five weeks. At that time Dr. Staiano confidently predicted that 100,000 phones would be in use by the end of the year. Despite waived monthly service charges, half-price activation fees, and free handset-to-handset calls, financial statements filed by Iridium in January reported only 3,000 subscribers. Current company predictions place the number of subscribers at the end of this year somewhere between 500,000 to 600,000.
Besides a disappointing subscriber count, it appears Iridium has suffered the loss of a dozen satellites. Nineteen launches orbited a total of 86 satellites, while only 66 are necessary for full operation. At the end of 1998 Iridium reported eight spares in orbit, leaving 12 as non-operational. Last fall a total of seven were known to have failed, so an additional five have apparently become unusable since then.
For those of you who would like a close up look at an Iridium satellite, visitors to the National Air and Space Museum in Washington, D.C., will be able to see one, donated last year by the Motorola Satellite Communications Group.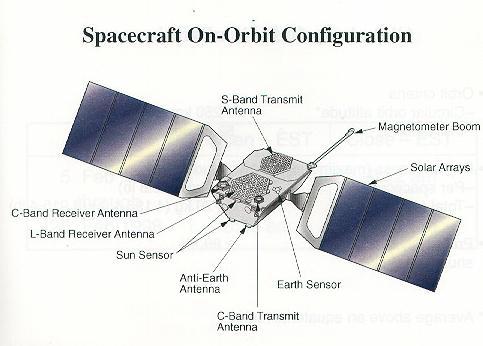 GLOBALSTAR
Another satellite-based personal communications service, Globalstar, has finalized launch plans after losing a dozen satellites last fall. On September 9, 1998, a Zenit-2 rocket launched from Baikonur Cosmodrome in Kazakhstan failed 4 1/2 minutes into flight, destroying the 12 Globalstar satellites on board.
In January Globalstar announced a new schedule after the United States, Russia, and Kazakhstan signed an agreement covering the launch of U.S. satellites from Baikonur. By the time you read this four satellites should be going up about every month, some on Soyuz rockets from Baikonur and others on Delta II rockets from the United States. A total of 32 satellites are expected in orbit by July, and 52 by December.
The Globalstar system, when completed, will comprise 48 active low earth orbit satellites and a network of gateway earth stations, providing telephone service to remote users. While similar in basic concept to Iridium, Globalstar believes they can offer comparable service at a lower cost by using more complex communications techniques and less expensive satellites. A significant portion of Globalstar's market is expected to be fixed telephone service in areas with little or no existing infrastructure.
Globalstar is an international consortium of companies led by Loral Space and Communications, and has raised $2.9 billion so far. An additional $600 million will be needed to complete the system and start commercial service, now slated for September. More than 300,000 user terminals have already been ordered from Ericsson, Qualcomm, and Telital.
System testing has been underway since the launch of eight satellites in February and April of last year, and several public demonstration calls were placed last September. Five gateway earth stations are operational now, with an additional 11 expected to be in operation at the end of this year.
AT&T
Back on earth, AT&T's Digital One Rate plan (see the December 1998 PCS Front Line) has proven to be very popular. At the end of 1998 there were 850,000 subscribers, all added since the product launch last May. AT&T will spend $2 billion to upgrade their national network, increasing digital coverage areas from 50 percent to 80 percent.
Overall, AT&T has 7.2 million wireless customers, almost two-thirds of whom use digital phones. 1.29 million new subscribers signed up last year, 440,000 in the fourth quarter alone.
SPRINT PCS
Sprint PCS also did well, ending 1998 with more than two and a half million subscribers. In January Sprint PCS activated their Chicago system, competing directly with traditional cellular carriers Ameritech and Cellular One as well as rival PCS provider AT&T Wireless. Their primary advertising claim appears to be the fact that they have a 100 percent digital network, although their coverage areas are somewhat less than the mixed analog and digital areas of AT&T. Sprint PCS has also been troubled by a higher than industry-average churn rate, meaning more customers are leaving Sprint than are leaving other carriers.
AIRCELL
The Federal Communications Commission (FCC) has long prohibited the use of cellular telephones on aircraft in flight, citing interference concerns. A transmitter operating several thousand feet above the ground has a much wider coverage area and can create havoc with a cellular system that expects cell phones to be on or near the ground.
Colorado-based AirCell, Inc., has convinced the FCC to grant a waiver and allow their specially-modified cellular telephones to operate on board aircraft. AirCell uses a number of techniques to reduce the amount of interference they may cause to existing cellular carriers.
Ground stations are located in rural areas, where ambient radio noise is relatively low. This allows the AirCell aircraft transmissions to be very low power, typically five milliwatts or less. AirCell also utilizes horizontal polarization from specially designed aviation antennas, further isolating their transmissions from those of the vertically polarized terrestrial cellular systems. Signaling is done on non-traditional control channels, further limiting non-participating systems from potential confusion.
AirCell operates as a reseller, buying airtime from cellular license holders in the 825 to 894 MHz frequency band. Their ground equipment is co-located with existing cellular base stations, providing a link into the public switched telephone network (PSTN). With antennas pointed slightly upward, a typical ground station has a range of about 80 miles, and AirCell is planning on operating as many as 150 across the United States.
Presently AirCell has reseller agreements with 13 carriers, mostly small ones, as many larger cellular companies oppose the whole idea. AT&T Wireless, AirTouch, BellSouth and others have objected to the waiver on the grounds that the system may interfere with their networks. The FCC's waiver is good for two years, but can be modified or rescinded if it can be proven that AirCell interferes with normal cellular system operation.
Based on their FCC filing, AirCell's primary market is owners and operators of general aviation aircraft, who until now have relied almost exclusively on VHF radio voice communication. Currently AirCell serves as a VHF backup, but future plans call for it to deliver weather, air traffic, airport, and flight information to pilots while they are enroute. Such a real-time data link has obvious safety value for pilots, passengers, and people on the ground.
Customers purchase an aircraft-qualified cellular transceiver from AirCell through a local fixed base operator (FBO) or avionics shop and have it installed in their aircraft. The monthly service fee is $45 and airtime is $1.75 per minute to any number in the continental United States.
WARNING FOR SONY WIRELESS TELEPHONES
Sony Electronics has informed the FCC that some of their wireless telephones may operate at radio frequency power levels above safety guidelines. Affected telephones were made and distributed in the first half of 1998 and have FCC Identification Numbers L5ACMDB and L5ACMDB2. Although these phones are no longer on the market, approximately 60,000 made it into the hands of consumers. Sony has established a program to notify customers of the potential problem, and to test and adjust the phone should that be necessary. Questions about this program should be directed to Sony Electronics at (888) 914-7669.
That's all for this month. As usual, more information on these and other topics is available on my website at http://www.decode.com, and I welcome electronic mail at dan@decode.com. Until next time, happy monitoring!