This article first appeared in the April 1997 issue of Monitoring Times.
Fingers in the Spectrum Pie
The Federal Communications Commission may become even busier selling the airwaves if the proposed White House fiscal 1998 budget is approved. The Clinton Administration wants to balance the budget by raising more than $36 billion from auctioning large blocks of spectrum now occupied by television broadcasters and others.
The White House proposals include raising more than $18 billion dollars by selling television spectrum now used by TV broadcasters, including UHF channels 60 - 69, to be made available by transitioning to high-definition digital television. The FCC would be granted additional authority to sell spectrum not used by TV broadcasters, bringing in an expected $17 billion. Another $700 million would be garnered by auctioning toll-free 888 numbers.
FCC AUCTIONS
Since beginning auction proceedings in 1994, the FCC has raised almost $23 billion dollars, with the bulk of that coming from Personal Communications Services (PCS) licenses. Other auctions sold space for satellite and wireless cable television and unserved cellular areas, as well as other services. The high prices paid for space in the early auctions may not carry over into future FCC efforts, and the most recent auction may prove that point.
Service
Number of
Licenses
Revenue in
Millions
Nationwide Narrowband PCS
10
650
Interactive Video and Data Services
594
249
Regional Narrowband PCS
30
395
Broadband PCS (A and B Blocks)
99
7,736
Broadband PCS (C Block and reauction)
493
10,174
Multipoint Distribution Service
493
216
900 MHz Specialized Mobile Radio
1020
213
Digital Broadcasting Service (110 °)
1
683
Digital Broadcasting Service (148 °)
1
52
Broadband PCS (D, E, and F Blocks)
1472
2517
Cellular Unserved
14
2
TOTAL
4227
22,887
In January the FCC closed bidding on the final group of licenses in the D, E, and F broadband PCS bands. At stake were three licenses for 10 MHz of spectrum in each of 493 markets. A total of 125 companies won the 1479 licenses, bidding a total of $2.5 billion. The most expensive market was New York, with bids of $184.7 million. Runners-up were Chicago with $146 million and Los Angeles with $74 million. Sprint was the biggest spender, laying out more than $544 million for 160 licenses (almost $8 per person in the license areas), including Chicago, Atlanta, and Cleveland. AT&T spent almost $407 million for 222 licenses that include New York, Los Angeles, and Dallas. Despite these numbers, this auction raised only about one-fifth of the amount generated by the previous C-block auction, probably due to the smaller 10 MHz spectrum slices (rather than 30 MHz), and a more realistic picture of what the licenses are actually worth. Conventional wisdom has it that previous auction bids were far too high.
YET ANOTHER NEW WIRELESS SERVICE
Under direction from Congress, the FCC in November released a Notice of Proposed Rule Making (NPRM) in which they proposed creating a "Wireless Communications Service" (WCS) to operate at 2305-2320 MHz and 2345-2360 MHz. Auctions to award licenses for these frequencies would begin no later than April 15, 1997, with the proceeds being placed in the US Treasury no later than September 30, 1997. The FCC is seeking comments on a number of implementation issues, including appropriate channel sizes and how best to partition the spectrum geographically. Should channels be paired, with corresponding frequencies in the lower and upper band, or should each stand alone? Are five megahertz channels wide enough for future services, or is ten or even 30 MHz more appropriate? Is the PCS model of 51 Major Trading Areas the most efficient way to divide service areas, or should larger, regional areas be granted under a single license? Also, current rules limit cellular, PCS, and Specialized Mobile Radio (SMR) service providers to a maximum of 45 MHz of spectrum in a geographic area. The FCC is considering whether to waive this competitive limit for WCS, since existing providers may have the most experience and expertise in getting services up and running. Keep in mind that the NPRM process is open to the public, and the FCC welcomes thoughful, well-reasoned input. See the FCC website at www.fcc.gov for more information if you'd like to provide your opinion.
The proposed service would allow licensees to provide almost any type of fixed or mobile service, being limited in most respects only in the amount of interference to adjacent bands. One of those protected frequencies is the National Aeronautics and Space Administration's (NASA) Deep Space Network operation at Fort Irwin, California. Large, high gain antennas listen to very low level deep space probe telemetry in the 2290-2300 MHz band. Other close-by allocations include satellite Digital Audio Radio Service (DARS) at 2320-2345 MHz and Government telemetry above 2360 MHz.
PCS SERVICE PROVIDERS
With their recent license acquisitions, Sprint PCS has announced their capability to provide seamless US coverage with a single technology. Since the auctions began it was not clear that a single PCS operator would win a sufficient number of licenses to provide nationwide coverage. In the event that no single provider won out, a series of patchwork agreements would have to be established between different providers in order for subscribers to have full service everywhere in the country. This "roaming" problem is compounded by the fact that the two main competing technologies, Code Division Multiple Access (CDMA) and PCS-1900, are incompatible. Providers have typically selected one technology over the other, thus excluding the other from operating over their system.
Sprint PCS, a joint venture of Sprint Corporation, Tele-Communications, Inc., Cox Communications, Inc., and Comcast Corporation, has access to licenses covering areas with an aggregate population of more than 260 million people. Those licenses didn't come cheap and the expenditures are just beginning, since over the next three years Sprint PCS estimates they'll spend $1.5 billion for buildout of their network. Sprint PCS will utilize CDMA technology with Sony/Qualcomm handsets combined with Lucent and Northern Telecom base station equipment.
Another CDMA operator making a big splash is PrimeCo Personal Communications L.P., a partnership between AirTouch Communications, Inc., Bell Atlantic Corporation, Nynex Corporation, and US West Media Group. Sixteen months after spending $1.1 billion for 11 PCS licenses, PrimeCo has rolled out service in 15 major cities using base station equipment from Motorola's Cellular Infrastructure Group and Lucent Technologies. Subscribers will initially use handsets made by Sony under license from Qualcomm, Inc., and will have access to such services as caller ID, call waiting, and short message service (SMS) for small text messages. Sony is currently producing an estimated 200,000 phones per month from their plant in San Diego.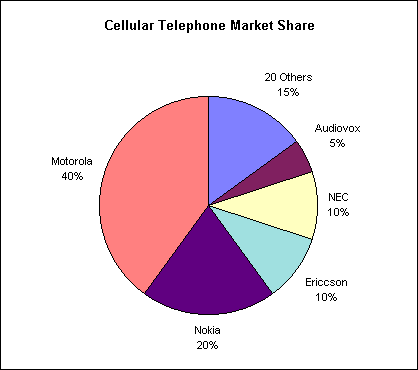 Other PCS providers are trying to address the roaming problem by working together. BellSouth Mobility DCS, Omnipoint, Pacific Bell Mobile Services, and Western Wireless (parent of Voicestream Wireless) have agreements in place to allow any of their customers to roam in each other's territory. Five states were initially affected by this agreement: Bell South Mobility in parts of North Carolina and Tennessee, Omnipoint in New York City, Pacific Bell Mobile Services in San Diego, and Western Wireless in Honolulu. Sprint Spectrum users based in the Washington, D.C. area may also operate in these areas, and more than a dozen additional markets are currently operating compatible systems.
Each of these providers has chosen to implement PCS-1900, the GSM standard operating at PCS frequencies. GSM provider licenses now cover more than 260 million people in the United States, or more than 98% of the population. At the end of 1996 there were more than 200,000 PCS-1900 customers, and estimates place the number of GSM-standard customers worldwide at 150 million by the year 2000, which would represent half of all wireless subscribers.
Is this kind of growth realistic? In 1993 there were 13.5 million cellular subscribers. In 1995 ten million new customers signed up, and another nine million joined in 1996, bring the total to almost 37 million subscribers. Projections place anywhere from 52 to 67 million cellular subscribers active by 2000. Surveys report the primary reason people get cellular service is safety, but many customers are finding the ease and convenience of portable communications too useful to ignore.
FUTURE PHONES
With new digital systems coming on line, voice is no longer the only draw for consumers. So-called "smart phones" are giving mobile users access to faxes, electronic mail, and even some Internet services. Current and proposed products will include voice recorders for answering machine and memo functions, touch screens, and built-in handwriting recognition. Almost 15,000 smart phones are expected to be sold in the United States in 1997, with that number growing to 2.4 million by the year 2000. Since August of 1996 Nokia has shipped more than 100,000 of their handheld 9000 product, which combines a GSM phone, organizer, and palmtop computer. While currently available in Europe, it is expected to be available in the United States later this year. Other manufacturers, including some not previously in the wireless communications market, are looking to produce integrated digital products for the 15 million PCS subscribers predicted to exist in the year 2000. This should radically alter the market share of current handset producers.
Another trend expected to continue is the "one-stop shopping" for communications services. Providers will offer voice, data, Internet access, long distance service, local and nationwide paging, 800 number service, and even cable television, all under one bill. Some companies are expected to focus on a geographic area, clustering their services to customers with whom they already do business, such as BellSouth is doing in the southeastern United States. This process, also referred to as "maximizing the value chain," provides traditionally distinct but related services under a single brand name. It also allows profits from established areas to subsidize the startup and development of new services, and flexible discounting in highly competitive markets.
IF YOU CAN'T BEAT 'EM, JOIN 'EM
In an interesting marketing coup, not all providers advertising under the PCS banner are actually running at 1.9 GHz frequencies. Bell Atlantic Nynex Mobile (BANM) has introduced their "DigitalChoice" service, which is CDMA operating in the same frequency bands as traditional analog cellular. Capitalizing on their existing frequency allocations and base stations, BANM claims PCS is an accurate term for their service because they now offer caller ID and short text paging, features typically found on the all-digital PCS systems. AT&T has been more aggressive, touting the availability of their "Digital PCS" system in more than 40 cities, again with the digital features PCS operators are advertising. In reality it is a Time Division Multiple Access (TDMA) system operating at the standard 800 MHz frequencies, having short-cut the normal 12- to 18- month PCS buildout period by simply upgrading existing base stations.
Customers of these networks typically purchase dual-mode phones, which operate in digital mode when in range of the new services, but revert to analog in areas that have not been upgraded. There have been some complaints about voice quality under the 800 MHz digital systems, and since service using a digital phone is often priced lower than with a pure analog phone, some customers have taken to purchasing a digital phone but getting better voice quality by setting it to always operate in analog mode.
As usual, more information is available on the PCS Front Line website at www.grove.net/~dan and I welcome comments and questions at dan@decode.com Until next month, happy monitoring!