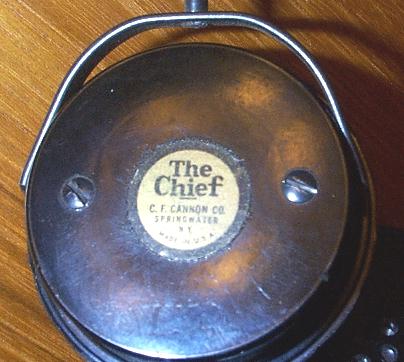 Update:
I received the following e-mail in April 2003:
Hi Dan,
My name is Lincoln, and living in Santiago, Chile, in South America. Yes, the company of the Chief Headphones is C. F. Cannon of Springwater, New York City. This company, after the merger with the Chester Brandes Company (about 1940's) they made the headbands cheaper with simple metal bands, no cloth padding. The earcaps were made of plastic with the multiple small listening holes instead of the one central hole. The magnets were also changed from the flat curved shape to a tubular curved shape. Saving money I guess. The Brandes headphones have been developed over a period of twelve years. They were originally designed by Reginald Fessenden, one of the world's greatest radio experts. I attach some information about Chester Brrandes Company (the original company).

Best regards,
Lincoln Rivas M.
Lincoln also included an excerpt from a 1922 book that details this type of headphone. I've converted it to HTML, which you can read by clicking here.